Overview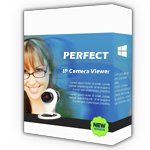 Perfect IP Camera Viewer is an easy-to-use yet powerful video surveillance software. With this program, you can monitor IP cameras directly from the window of your computer. Remote monitoring through Internet and PTZ control are also supported.

The initial installation of the program will not cause any problems, as well as the adding IP cameras to the program. The application contains an efficient network scanner, which automatically detects working IP cameras and connects them to the application.
In addition to the standard video surveillance features, the program contains a number of innovative functions:
Motion Detection
Monitor up to 64 cameras simultaneously;
Efficient motion detection engine;
Masking tool to prevent false alerts;
Sirene, email or SMS alerts available for motion detection

IP Camera Viewer has a software motion detector that activates the siren (sound from the speaker) in case of detection of movement in the monitoring area. Also the program is able to notify you of an incident via message sent to your e-mail, or sms sent to your cell phone.
The function of sending SMS alert is especially useful, because you receive a notification instantly.
Detection settings include sensor sensitivity adjustment, as well as a masking tool. The mask can be placed on monitoring areas which are susceptible to false positives. For example, on a wall on which there often appear sun glare, or on the floor area, if domestic animals live in the room. "Masked" areas will be ignored by the program if the motion is detected there.
Capturing Snapshots and Video
If motion is detected, program makes snapshots and saves files to any local folder, or on a cloud;
Record video on motion detection;
Motion detection recording saves space by only recording when something is happening;
To get a notice on detection is not enough. Surely you will need a visual confirmation of the incident. For these purposes, you may need to see pictures from cameras, or even video recordings. IP Cam Viewer allows you to see both. The created JPEG images are saved to a special folder on the computer or in the cloud. It is also possible to automatically attach 2-3 pictures to the email sent. Video is recorded in Xvid format, which provides a minimum file size with good quality.
Scheduled Monitoring and Recording
Configure scheduler for automatic video monitoring and recording;
Video recording scheduling for the definite days of the week or certain dates;
The same monitoring scheduling;

This ip camera software allows automatic starting and finishing of monitoring. This is very convenient, especially if your schedule of presence in the room is unchanged. You can, for example, configure the program so that monitoring at your home starts on weekdays from 9:00, when you go to work; and ends at 5pm when you return.
The beginning and end of video recording can be customized too. Settings are available for specific days of the week, or for individual dates.
Built-in Player
Play recorded videos with ease, using integrated media player;
View snapshots;
Filter records by type, camera, date, media format;
Playback speed control.

The video security software has a special integrated video player. It is organized for the most comfortable viewing of video recordings and photo snapshots. It allows you to find and play surveillance records ordered by camera, date, duration and motion detected.
Remote Monitoring
View live video flow from the surveillance cameras in your browser;
Configure it to work in local network or through Internet;
Works on any device, any browser;
Protect access with username and password;

IP Camera Viewer can act as an HTTP server, allowing you to monitor ip camera stream through the Internet, in a web browser window. To do this, you just need to remember the IP address, as well as your username and password. So, wherever you are, you will always be aware of what is happening. All you need is a smartphone, tablet or computer connected to the Internet.
So what are you waiting for? Download Perfect IP Camera Viewer for free!